24. Januar 2013
4
24
/

01
/

Januar
/

2013
23:27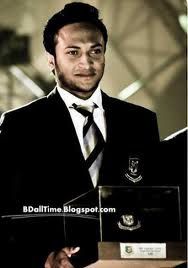 Shakib Al Hasan
From Wikipedia, the free encyclopedia
Shakib Al Hasan
Personal information Full name Shakib Al Hasan Born 24 March 1987
Magura,

 

Bangladesh
Nickname
Moyna
Height 5 ft 9 in (1.75 m) Batting style
Left-handed
Bowling style
Slow left-arm orthodox
Role
All rounder
International information National side
Bangladesh
Test debut
(cap 
46
) 18 May, 2007 v 
India
Last Test 21 November, 2012 v 
West Indies
ODI
debut
(cap 
81
) 6 August, 2006 v 
Zimbabwe
Last ODI 22 March, 2012 v 
Pakistan
ODI shirt no. 75 Domestic team information YearsTeam 2004–present
Khulna Division
2010–2011
Worcestershire
2011–present
Kolkata Knight Riders
2012
Khulna Royal Bengals
2013-present
Dhaka Gladiators
Career statistics Competition
Test
ODI
FC
LA
Matches 28 126 63 153 Runs scored 1,835 3,635 3,737 4,285
Batting average
35.98 35.63 34.92 33.74 100s/50s 2/11 5/25 5/21 5/30 Top score 144 134* 144 134*
Balls
bowled 7000 6,452 13,017 7,567
Wickets
105 160 201 189
Bowling average
32.56 28.85 30.08 28.40 5 wickets in
innings
9 0 14 0 10 wickets in match 0 0 0 0 Best bowling 7/36 4/16 7/32 4/16 Catches/
stumpings
11/– 35/– 34/– 46/– Source:
Cricinfo
, 11 December, 2012
Shakib Al Hasan (Bengali: সাকিব আল হাসান) (born 24 March, 1987) is a Bangladeshi international cricketer. Also known as Shakibul Hasan, is an all-rounder, batting left-handed in the middle order and bowling slow left-arm orthodox. He represented Bangladesh at under-19 level, 18 Youth One Day Internationals between 2005 and 2006. Shakib made his One Day International (ODI) debut against Zimbabwe in August 2006, and his Test debut the following May against India. During a match against New Zealand in 2008, Shakib took the best bowling figures by a Bangladesh player in Tests, 7 wickets for 36 runs. Until then, Shakib had been considered more of a batsman than a bowler, although still an all-rounder. From January 2009 to April 2011 and again from March 2012, Shakib was ranked first amongst ODI all-rounders by the ICC. In December 2011, he became the world's top-ranked Test all-rounder.
Shakib was appointed Bangladesh's vice-captain in June 2009 when Mashrafe Mortaza replaced Mohammad Ashraful as captain. During Bangladesh's tour of the West Indies the following month, Mortaza injured himself and Shakib took over the captaincy. He was 22 years old at the time. Initially a temporary position until the recovery of Mortaza, Shakib's success against the West Indies, securing his side's first overseas series win, ensured his retention of captaincy even after Mortaza's recovery. He was named The Wisden Cricketer's "Test Player of the Year" in November 2009. In July 2010, he stepped down from the ODI captaincy to concentrate on his personal performance. Mortaza took over until injury struck again and Shakib was asked to assume the role. He was relieved of captaincy in September 2011.
Domestically Shakib has represented Khulna Division since 2004, and in 2010 he spent several months playing for Worcestershire in England, becoming the first Bangladeshi player to represent an English county. For the 2011 Indian Premier League, Shakib was contracted by Kolkata Knight Riders. In the 2012 Bangladesh Premier League, he captained Khulna Royal Bengals.
[edit]
Early years and youth cricket
According to Prothom Alo sports editor Utpal Shuvro, Shakib "was fairly proficient [at cricket] and was often hired to play for different villages".[1]In one of these matches Shakib impressed an umpire who arranged for him to practice with the Islampur Para Club, a team in the Magura Cricket League. During the practice session, Shakib batted aggressively and bowled fast, as he usually did, but also chose to experiment with spin bowling which proved to be effective. He was picked to play for Islampur and took a wicket with his first ball; it was his first delivery with a proper cricket ball, having previously generally played with a taped tennis ball. He spent six months training at Bangladesh Krira Shiksha Pratisthan,[1] a government-run sports institute.[2]
In 2005, during the final of a tri-nation tournament involving England and Sri Lanka's Under-19 teams, Shakib scored an 86-ball century and took three wickets to lead his team to victory.[3] Between 2005 and 2006, Shakib played 18 youth One Day Internationals; he scored 563 runs at anaverage of 35.18, and took 22 wickets at an average of 20.18.[4]
[edit]
International breakthrough (2006–2008)
Shakib was included in Bangladesh's senior squad to tour Zimbabwe in 2006. Along with Farhad Reza and Mushfiqur Rahim, Shakib was one of the three uncapped players to be included in the squad.[5] Shakib and Reza were described as "very good cricketers in all departments of the game", and Faruq Ahmed – the chief selector – said that Bangladesh had "high hopes from them and it's time for them to perform at the international level".[6] Shakib made his ODI debut on the tour on 6 August; his maiden wicket was that of all-rounder Elton Chigumbura, and he finished with bowling figures of 1/39. He also scored 30 not out while Shahriar Nafees scored his maiden ODI century to help Bangladesh win by eight wickets. It was the final match in the series, which Zimbabwe won 3–2.[7] In September 2006, Shakib was one of three players to be granted a rookie contract with the Bangladesh Cricket Board (BCB), along with Farhad Reza and Mehrab Hossain Jr. This increased the number of players with central contracts and under the control of the BCB from 20 to 23.[8]
The West Indies hosted the 2007 Cricket World Cup in March and April; Shakib was included in the 15-man squad led by Habibul Bashar.[9]Bangladesh made it to the second stage of the competition and finished seventh.[10] Along the way the team caused an upset by beating India to help knock them out of the tournament. WithTamim Iqbal in just his fifth ODI and Mushfiqur Rahim, Shakib was one of three Bangladesh batsmen in the match to score a half century to help the team reach its target of 192 to win.[11] Later in the tournament, Shakib scored another half-century although Bangladesh were defeated by England on that very occasion.[12] With 202 runs from nine matches at an average of 28.85, Shak_career.html?id=2403;type=tournament |title=ICC World Cup, 2006/07 / Records / Most runs |publisher=ESPNcricinfo |accessdate=2010-11-09}}</ref> he also took seven wickets at an average of 43.14.[13]
Later that year, in May, India toured Bangladesh for two Tests and three ODIs. On 18 May, Shakib made his Test debut against India. He batted once, scoring 27 runs, and bowled 13 overs without taking a wicket as the match ended in a draw.[14] India won the Test series 1–0 and the ODI series 3–0. After the tour, Dav Whatmore resigned from his position as Bangladesh coach,[15]and batsman Mohammad Ashraful replaced Habibul Bashar as captain.[16] In September 2007, South Africa hosted the ICC World Twenty20. Victory against West Indies in the first round was enough to ensure Bangladesh's progression to the second round, although it was the only one of their five matches they won. In the match against West Indies, Shakib took 4/34; it was the first time a Bangladesh player had taken more than three wickets in an International Twenty20 match (T20I).[17] Shakib was part of another piece of T20I history when in a match against Australia in the tournament he became one of three victims of the first T20I hat-trick. Brett Lee took Shakib's wicket, followed by those of Mortaza's and Alok Kapali to help Australia to a nine-wicket win.[18] In October that year, it was announced that Jamie Siddons – Australia's assistant coach – would take over the role of Bangladesh coach;[19] Siddons asserted that the previous set-up had focused on short-term goals and that he was planning to improve Bangladesh over the long term and keep together a core squad of talented players to gain experience at international level.[20]
In December 2007 and January 2008, Bangladesh toured New Zealand for two Tests and three ODIs. Although he did not play the first Test, Shakib was selected over Enamul Haque Jr for the second due to his better batting ability.[21] It was Shakib's fourth Test, and until that point he had gone wicketless. His first wicket was that of New Zealand's Craig Cumming.[22][23] New Zealand won by an innings and 137 runs and took the series 2–0.[21] New Zealand also completed a clean sweep in the ODIs which preceded the Tests, winning 3–0.[24] Shakib played in all three ODIs scoring 31 runs at an average of 10.33,[25] and taking 3 wickets at an average of 42.33.[26] Over February and March 2008 South Africa toured Bangladesh, playing two Tests and three ODIs. South Africa won both Tests.[27] Shakib played in both Bangladesh's defeats, taking just one wicket while conceding 122 runs,[28] and scoring 75 runs.[29] South Africa won the subsequent ODI series 3–0.[30] Shakib passed 1,000 ODI runs in the series; he passed the landmark in his 39th ODI with a batting average of 35.37.[31]
[edit]
Becoming Bangladesh's leading all-rounder (2008–2009)
Before New Zealand's tour of Bangladesh in October 2008, Shakib was considered more of a batsman than a bowler, despite being an all-rounder. Though he usually batted down the order at number seven in Tests, he had mostly batted in the top five in ODIs. In a departure from Shakib's usual role Jamie Siddons, the coach, stated that Shakib would play the Test series against New Zealand as a specialist bowler. The move immediately paid off, and he took 7/37 in New Zealand's first innings in the opening Test. They were the best bowling figures by a Bangladesh player in Tests.[1] Bangladesh lost the series 2–0, but Shakib finished as Bangladesh's leading wicket-taker in the series with 10 wickets at 17.80.[32] Bangladesh won the opening match of the ODI series against New Zealand – securing their first ever ODI win over them[33] – although they eventually lost the series 2–1.[34] Shakib finished with five wickets from three matches, making him Bangladesh's second-highest wicket-taker for the series behind Mashrafe Mortaza (7);[35] however Shakib scored just 16 runs in the series.[36]
The following month, Bangladesh toured South Africa for two Tests, three ODIs, and a T20I. While Bangladesh lost all their matches against South Africa except for an abandoned ODI,[37] Shakib continued to build on the good bowling form he had found against New Zealand. On the first day of the opening Test, Shakib went wicketless; on the advice of Mohammad Salauddin, Bangladesh's assistant coach, he gave the ball flight on the second day and went on to take five wickets. He took another five-wicket haul in the second Test, again as Bangladesh lost to South Africa.[1] Along with South Africa's Makhaya Ntini, Shakib was the series' leading wicket-taker with 11 at an average of 20.81.[38] Shakib's performance against South Africa in a losing cause prompted former Australian leg spin bowler Kerry O'Keefe to describe him as the "world's best finger spinner at the moment".[1] Sri Lanka toured Bangladesh in December 2008 and January 2009 for two Tests and a Tri-nation tournament including Zimbabwe. Sri Lanka won both Tests and the tournament final,[39] although Shakib turned in a man of the match performance, scoring 92 not out, in the second ODI against Sri Lanka helped Bangladesh to their only victory against them on the tour.[40] In the first match of the Test series, Shakib took another five-wicket haul as his team again was defeated.[1]
On 22 January 2009 Shakib was ranked first amongst ODI all-rounders by the ICC.[41] Although he was part of the auction of players held the following month for the 2009 Indian Premier League, Shakib was not chosen by any of the eight teams and no bids were made for him. This was despite being rated as the world's highest ranked ODI all-rounder at the time. Fellow team-mateMashrafe Mortaza, who was bought in the auction, said "I would have been a lot happier if Shakib had got a team because he truly deserved it for his sensational form with the bat and ball".[42]
[edit]
Vice-captaincy (2009)
At the beginning of 2009, there was speculation over Mohammad Ashraful's position as captain after a succession of defeats for Bangladesh and continuous poor form for Ashraful. Shakib was considered a possible successor by the Bangladesh Cricket Board (BCB). However, the BCB was cautious of over-burdening the all-rounder and decided against the move. Other candidates were discounted, and Ashraful remained as captain.[43] Later in 2009, Ashraful's captaincy was again under scrutiny after Bangladesh exited the 2009 ICC World Twenty20 in the first round following losses to Ireland and India. When Mashrafe Mortaza replaced Mohammad Ashraful in June 2009, Shakib was appointed vice-captain, filling the position vacated by Mortaza.[44]
In July–August 2009, Bangladesh toured the West Indies. When Mortaza injured his knee in the first Test, he was unable to take to the field on the final day and Shakib took over as captain. He and Mahmudullah led Bangladesh's bowling attack, sharing 13 wickets in the match and securing a historic win for Bangladesh. It was Bangladesh's first against the West Indies, their first overseas Test victory, and only their second Test win.[45][46] The West Indies side was very inexperienced due to the fallout of a dispute between the West Indies Cricket Board and the West Indies Players' Association over pay. The first XI had made themselves unavailable for selection and a new squad had to be chosen. Seven West Indies players made their Test debut in the match and the side was captained by Floyd Reifer who had played the last of his four Tests ten years earlier.[47] Shakib was fined 10% of his match fee for excessive appealing; bowler Shahadat Hossain was also fined and batsman Imrul Kayes was reprimanded for the same reason.[48]
[edit]
Captaincy (2009–2011)
In Mortaza's absence through injury, Shakib led Bangladesh for the remainder of the tour.[49][50] Aged 22 years and 115 days at the start of the second Test, Shakib became Bangladesh's youngest captain and fifth youngest in the history of Test cricket.[51] Under Shakib's leadership Bangladesh went on to win the second Test, and in the process secured their first overseas series win.[52] Individually Shakib performed well, earning both the player-of-the-match and player-of-the-series awards, scoring 16 and 96 not out with the bat and taking 3/59 and 5/70 with the ball.[53] He scored 159 runs in the series at an average of 53.00 and was Bangladesh's second highest run-scorer for the series;[54] his haul of 13 wickets at an average of 18.76 from both matches meant Shakib was the equal highest wicket-taker for the series along with West Indies fast bowler Kemar Roach.[55] After winning the Test series 2–0, Bangladesh proceeded to whitewash the ODI series, winning 3–0. The West Indies' dispute remained unsolved for the whole of Bangladesh's tour and the West Indies continued to field an inexperienced side.[50] Shakib collected two half centuries in the ODI series, averaging 45.00, and was the third highest run-scorer in the series;[56] he also took 2 wickets at an average of 48.00.[57] For his performance in the ODIs, Shakib was named the man of the series.[58]
Shakib was appointed captain for Bangladesh's tour of Zimbabwe in August 2009 as Mortaza was still injured.[50] In the second ODI of the five match series in Zimbabwe in August 2009, Shakib scored 104 off only 64 balls before being run-out – his third ODI century – to help his team to their highest score in ODIs and lead Bangladesh to a 2–0 lead in the series.[59] He finished the series with 170 runs from five matches at an average of 42.50 – fifth highest run-scorer[60] – and 6 wickets an average of 39.66, fourth highest wicket-taker in the series.[61] Following his team's 4–1 victory in the ODI series against Zimbabwe, Shakib travelled to Australia to undergo medical treatment for acute groin pain. He had been experiencing pain since the end of the West Indies tour, but he had decided to play through the pain and lead Bangladesh in Zimbabwe.[62] Although he did not win, Shakib was nominated Cricketer of the Year and Test Player of the Year in the 2009ICC Awards; he was the only Bangladesh player to be nominated in either category that year.[63][64]
Shakib's success meant that it was not a given that Mortaza would replace him as captain once fit,[50] but it was announced in September 2009 that Mortaza would return as captain for Bangladesh's home ODI series against Zimbabwe the following month and Shakib would return to the role of vice-captain.[65] However, Mortaza failed to return from arthroscopic surgery on both knees in time for the series, and Shakib was again named captain.[66] After losing the opening match – in which Shakib criticised the performance of Bangladesh's batsmen including himself[67] – Bangladesh went on to win the series 4–1.[68] In the second match of the series, Shakib passed 2,000 runs in ODIs.[31] In November 2009, Shakib was named The Wisden Cricketer's "Test Player of the Year".[69]
[edit]
England and the Asia Cup
Over February and March 2010 England toured Bangladesh for two Tests and three ODIs. England won all of their matches against Bangladesh.[70] Shakib was Bangladesh's leading wicket-taker in both the Test and ODI series (9 wickets in Tests and 5 in ODIs).[71][72] In the second Test, Shakib scored 49 and 96, and took 4/124 from 66 overs. Both Tests went to the final day and Shakib expressed the opinion that the experience had exhausted his side.[73] The match was also a source of controversy after incorrect umpiring decisions on the third day went against Bangladesh, prompting Shakib to blame the lack of a referral system for some of the team's misfortune.[74] In turn, Bangladesh toured England in May and July the same year. They again lost the Test series 2–0.[75] Shakib finished as his team's leading wicket-taker with eight wickets,[76] although he only scored 52 runs.[77] Before the ODI series, Bangladesh left England for Sri Lanka, which was hosting the 2010 Asia Cup in June. Bangladesh lost all three of their matches.[78] With five wickets, Shakib was Bangladesh's lead wicket-taker with Shafiul Islam (5 each).[79]
As he was struggling to cope with the captaincy and his role as an all-rounder, Shakib gave up the captaincy in July 2010 to focus on his own performance. Mashrafe Mortaza returned to take charge in ODIs. Coach Jamie Siddons explained that "Shakib was the main person behind the decision, he decided it was a bit much for him. His form was down with the bat and he needed a rest."[80] Bangladesh returned to England for the ODI half of their tour. Bangladesh lost the series 2–1,[75] but their victory in the second match was the first time Bangladesh had beaten England in international cricket.[81] While in Europe, Bangladesh were scheduled to play two ODIs against Ireland, and one each against Scotland and Netherlands. The match against Scotland was abandoned and Bangladesh lost one match to each of Ireland and the Netherlands.[75]
Having signed a contract in November 2009,[82] Shakib joined up with Worcestershire County Cricket Club, playing the second division of the County Championship, in July 2010. He was the first Bangladeshi to represent a county side.[82] While playing for Worcestershire he took his best first-class bowling figures of 7/32 against Middlesex. In eight first-class matches he scored 358 runs at 25.57 (with one score over 50)[83] and took 35 wickets at 22.37,[84] as Worcestershire secured promotion to the first division at the end of the season.[85] Shakib also played five one-day matches for Worcestershie, scoring 187 at an average of 37.40 (including two half-centuries)[86] and taking 9 wickets at 17.77.[87]
[edit]
New Zealand and Zimbabwe
In October 2010, New Zealand went to Bangladesh for five ODIs. In the first match of the series Mortaza injured his ankle and was forced to leave the field; Shakib took over, and under his leadership Bangladesh secured a nine-run victory, during which Shakib took four wickets and scored 58. Once it emerged that Mortaza would be unable to play in the rest of the series, Shakib was made captain for the remaining matches.[88] In the fourth match, Shakib scored a century and took three wickets to help his team win by nine runs.[89] Bangladesh went on to win the series 4–0,[90] their first series victory against a full strength ICC Full Member nation.[89] Shakib finished the series as the player with most runs and wickets on either side: 213 runs[91] and 11 wickets.[92]
Although Mortaza returned from injury in time for Zimbabwe's tour of Bangladesh in December, Shakib was retained as captain for the five-match ODI series.[93]Following his side's defeat in the opening ODI, Shakib stated that he "was not prepared to take the job and I am also not satisfied with my role as a captain".[94] Bangladesh went on to win the next three complete matches, with one called off due to rain, to beat Zimbabwe 3–1.[95] Shakib was Bangladesh's second-highest run-scorer and wicket taker for the series with 156 runs, including two half centuries, and nine wickets.[96][97]
[edit]
Towards the end of captaincy
Shakib's record as captain
  Matches Won Lost Drawn Test
[98]
9 1
[99]
8 0 ODI
[100]
47 22 25 – T20I
[101]
4 0 4 –
In February to March April 2011, Bangladesh co-hosted the World Cup with India and Sri Lanka. West Indies dismissed Bangladesh for 58 runs, the team's lowest score in ODIs and a record low for a Full Member at the World Cup.[102] Shakib's house was stoned by angry fans in the aftermath,[103] as was the West Indies team bus as it left the ground.[104] Bangladesh registered wins against England, Ireland and the Netherlands, but defeats by West Indies, India and South Africa meant they did not progress beyond the first round of the tournament.[105] With 8 wickets at an average of 27.87, Shakib was Bangladesh's lead wicket-taker in the tournament,[106] and his 142 runs from 6 innings made him the team's third highest run-scorer.[107]
Shortly after the World Cup, Australia toured Bangladesh for three ODIs. In the first match of the series, Shakib scored 51 to pass 3,000 runs in ODIs.[31] Bangladesh lost the series 3–0,[108] Shakib scored 69 runs in three matches[109] and took just one wicket whilst conceding 117 runs.[110] Shane Watson's performances in the series meant he was ranked first amongst ODI all-rounders, claiming the position from Shakib.[111] For the 2011 Indian Premier League, held in April and May, Shakib was contracted by Kolkata Knight Riders for US$425,000.[112] He made his debut in the tournament on 15 April in a match against Rajasthan Royals. He claimed two wickets in the match, first that of Amit Paunikar and then Shane Watson, and was not called on to bat as his team won by nine wickets.[113] KKR were knocked out in the semi-finals of the competition;[114]Shakib played in seven matches, taking 11 wickets at an average of 15.90 and finished as KKR's third-highest wicket-taker.[115] After the IPL, Shakib returned to Worcestershire for seven weeks. He played a single County Championship match as his time with the team coincided with the 2011 Friends Life t20,[116][117] but in that match he took seven wickets and passed 3,000 runs in first-class cricket.[118] Worcestershire finished fifth out of nine teams in their group for the t20 competition, failing to qualify for the quarter-finals.[119] From 12 matches Shakib took 19 wickets, finishing as the club's leading wicket-taker, equal with seam bowler Gareth Andrew.[120]
When Bangladesh toured Zimbabwe in August 2011 they were expected to win the one-off Test, which was Zimbabwe's first in five years, and the five-match ODI series. As it transpired Bangladesh lost the ODI series 3–2 and the Test. Shakib and his vice-captain, Tamim Iqbal, were sacked with a BCB official citing unsatisfactory leadership.[121]
[edit]
Post-captaincy (2011–present)
Bangladesh's first series under new leadership was against the West Indies in October 2011. Relieved of the captaincy, Shakib was Bangladesh's leading wicket-taker in both the ODI and Test series,[122][123] His bowling was backed up by 168 runs in the two Tests (of the Bangladesh players, only Tamim Iqbal scored more),[124] and 79 from two innings in the ODIs.[125] Bangladesh lost both series.[126] Following this, Shakib was Bangladesh's top run-scorer and wicket-taker in the home Test series against Pakistan in December 2011.[127][128] In the second Test of the series, he became Bangladesh's first player to score a century (his highest score, 144) and take five wickets in an innings in the same Test.[129] After the series he moved to first place in the ICC's ranking of Test all-rounders.[130]
The Bangladesh Cricket Board founded the six-team Bangladesh Premier League in 2012, a twenty20 tournament to be held in February that year. The BCB made Shakib the 'icon player' forKhulna Royal Bengals.[131] Under his captaincy, Shakib's team progressed to the semi-finals of the competition where they were beaten by Dhaka Gladiators.[132] In ten matches he scored 280 runs and took 15 wickets, which make him KRB's leading wicket-taker, and was named Man of the Tournament.[133][134]
Soon after the BPL finished, Bangladesh hosted the 2012 Asia Cup featuring India, Pakistan, and Sri Lanka. In four matches Shakib scored 237 runs including three half-centuries and took six wickets. Bangladesh progressed to the final of the tournament for the first time where they lost to Pakistan by two runs. Shakib's performance saw him named Player of the Tournament and reclaim the number 1 ODI all-rounder ranking from Australia's Shane Watson.[135][136][137] The 2012 Indian Premier League was held in April and May; Shakib played in eight of KKR's 18 matches and won two man of the match awards as the team won the competition for the first time.[138]
In the home series against West Indies in November-December, he became the 2nd Bangladeshi to take 100 test wickets, making him the leading wicket-taker in tests for Bangladesh. He also achieved the feat of becoming the quickest all-rounder to take 100 wickets and score 1000 runs. He achieved the milestone in just 28 matches.[139] However, he got ruled out of the ODI and T20 series due to a shin injury. He is expected to recover within 4-6 weeks, but he there is a chance he may miss the second edition of BPL which starts from January 17, 2013.[140
Published by Alamgirkingpin